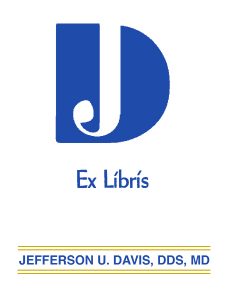 I worked closely with Karen Gardner of Bookplate Ink in making a personalized bookplate with a logo. She is an exemplary collaborative printing artist — hardworking, conscientious, highly proactively communicative, and effective. We collaborated to use a custom logo I designed over thirty years ago for "branding" my plastic and reconstructive surgery practice. It has tremendous sentimental value, so I decided that as a bibliophile and collector of rare books, I would have my own personalized bookplates. To say that I am ecstatic with my final design and appearance of the bookplates is an understatement. Thank you for your wonderful efforts and results!

Jefferson Davis
---
The book plates for our garden club member/retired librarian who has organized our club's library for many years just came. I cannot wait to present them to her. I know that she will love them, since she ordered the same style many years ago for the club. Karen Gardener was very responsive and made sure everything was perfect. Thanks, Karen!
Peggy Marchesani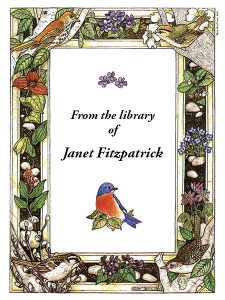 ---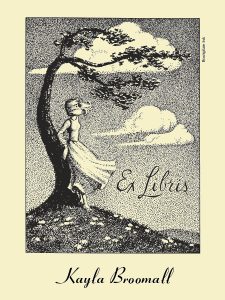 Ordered these for myself years ago and LOVE adding them to my most treasured books. Just ordered a set for our nanny who is an avid reader – they came out perfect! A great gift for anyone – even yourself!

April Cote
---
I sweated my bookplate design to the point of headache. I had the first version printed, then stopped halfway through pasting them into my library, changed my mind, redesigned it, and had Bookplate Inc. reprint a second version. It seems like such a permanent, important thing to get right. Both versions, in spite of my own revisionist tendencies, were spot-on in terms of color fidelity, and the self-adhesive backing is a huge time saver; especially if you, like me, decide to do things twice.
Christopher Winters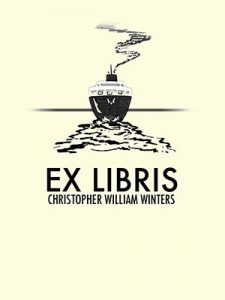 ---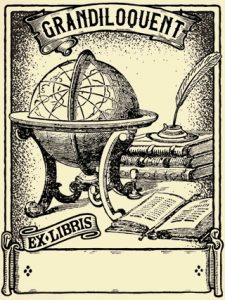 We ordered customized bookplates as one of the rewards for our Kickstarter project. They are absolutely gorgeous! We are so impressed with the quality, as well as how fast the order was received. We are equally impressed with the warm, professional service provided by Karen Gardner, who is absolutely delightful. We are excited to be shipping these to our fans from all over the globe. Thank you so much!

Jason Ott, Grandiloquent Word of the Day
---
---
Bookplate Ink repeatedly offers terrific value for customized bookplates that I send to my readers. For the past several years they have been the only bookplates we use. Thanks for making me (a customer!) feel like family.

Ridley Pearson, author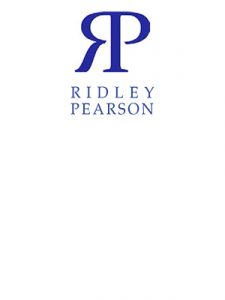 ---
---
Thanks for the beautiful bookplates, which I use to send signatures to young fantasy readers interstate and overseas. The service you provide is such a wonderful one!

Liam Tanner, author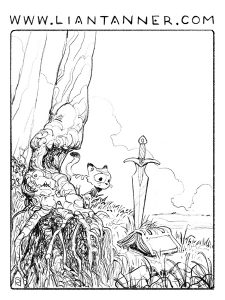 ---
---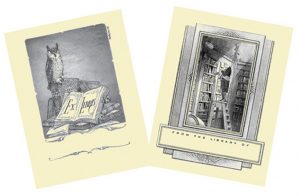 Customers writing after receiving non-personalized bookplate orders:
Delighted with your responsive service and outstanding follow-up. We use non-personalized bookplates as a little "thank you" for our customers, and the quality is excellent — your great product makes us look good!
—Toni Horvath, Wizard Marketing

I was 14 when I bought my first set of bookplates from Antioch. Recently, I came across my old box of bookplates; not only was I thrilled to have found them, I was also reminded of how special they were to me and to my beloved books; so I ordered two new boxes. I am an English professor now and your bookplates grace every single one of texts – both for school and home. I know every single book that I lend out can find its way back home – thanks for keeping alive a sweet memory!
—Sioux Patashnik
Great service, great products, fair prices & fast shipping. Satisfaction guaranteed! I can't recommend Bookplate Ink highly enough. They're the best!!!
—Brian Quast

I was so happy to receive my order. Nice card stock and beautiful way to document my books. Thank you.
—Margaret Hebert
---
Bookplate Ink is the perfect successor to the revered Antioch Bookplate Company of Yellow Springs, OH. Having used Antioch bookplates for my massive, personal library for decades, Bookplate Ink has updated the older designs and fonts, but not the service. Karen Gardner and her team at Bookplate Ink could not be kinder, more helpful, or more willing to offer artistic suggestions. No one but Karen will honor the "real" books (ink on paper–no batteries required) in the next generation of my book collection.

Douglas Savage, author
Canton, Ohio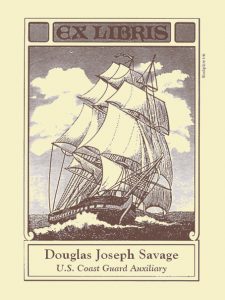 ---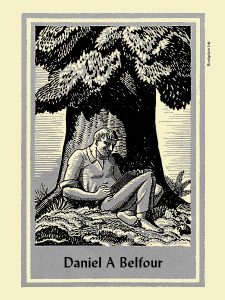 When I decided to buy book plates for my growing book collection, which includes two books illustrated by Rockwell Kent who is my favorite, I looked around quite a bit. I am glad to say that I chose the right company. Not only did you have a Rockwell Kent, but the design. the printing. the quality and ease of use are all perfect. I would gladly recommend you to any book lover.

Dan Belfour
---
My grandson, Andrew Lovato-Needham, is a recognized National Latin Scholar in the ninth grade! In a long family tradition we are creating his personal library for him, formalized with your fine bookplates. Beautiful work!!!

George Needham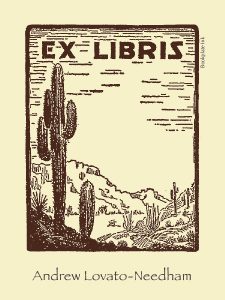 ---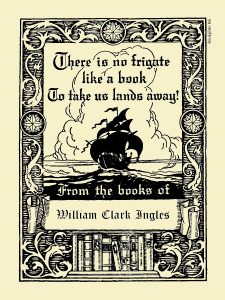 This was copy of my mother's bookplate when she was a child as a gift to her great grandchildren. A nostalgic memory… so glad Bookplateink had it… Now considering more as gifts…

Charles Daschbach
---
Bookplate Ink is simply the ONLY place to go for bookplates. We have a very simple bookplate for Waite Library and always just reorder from Karen Gardner. Fast, personal, excellent quality and excellent service. I still have the bookplates given to me as a child but think perhaps it is time for a new design, for my second half-century of loving books.
Linda Eells
University of Minnesota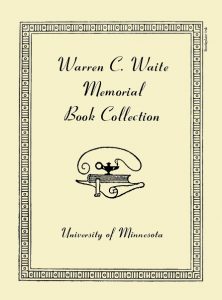 ---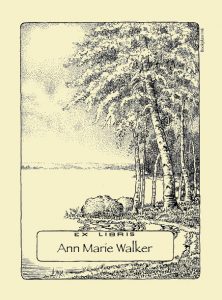 I have ordered from Bookplate Ink for many years, and have never been disappointed. The quality of the bookplates has been uniformly superb, and I have never had a faulty bookplate. I recently changed the design for my bookplates, and the new ones are even lovelier than the former ones, if that is possible.
In a world where so many things are shoddily-produced and service is an unknown concept, Bookplate Ink is a bright beacon that lets me know that some important things still matter. Thank you!

Ann Marie Walker
---
Bookplate Ink has always done a wonderful job with any bookplates we've asked them to design! They are professional, friendly, and are committed to customer service and satisfaction. We are definitely going to order with Bookplate Ink again!
Emily Kennedy
Twin Lakes Library System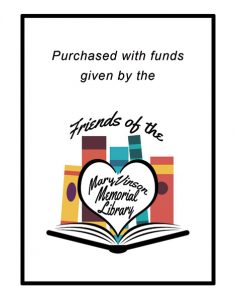 ---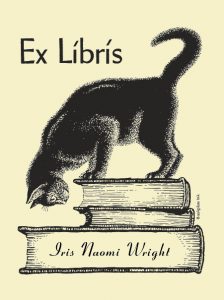 I am so pleased, for many reasons. The bookplate I ordered for my niece — curious black cat on a stack of books — is the very one I had as a child. This is a wonderful company. Karen and I further communicated about something that was a mystery to me. I have a 1st edition "Out of Africa" book that contains a rare bookplate design with my grandparent's name. I have been looking for this bookplate design for a long time…. I showed an image to Karen, and she responded that the image is in Bookplate's archives, and that she will be able to create. I am beyond thrilled. My new plan regarding the task of finding the right gifts for people has been made easier. I will be ordering many bookplates for friends and family from here… and thank Bookplate for it's fine artistry and care, and wonderful customer relations.

Nora Wright Chilcott
---
What a great experience with Karen's personal touch. The bookplates were exactly what we wanted and she could not have been more fun (and professional) to work with. I'll certainly recommend this business to others. Bookplates were absolutely what we wanted and delivery was timely. Thanks Karen. Bill loved them.
S Finger, Columbia MO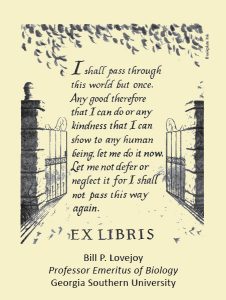 ---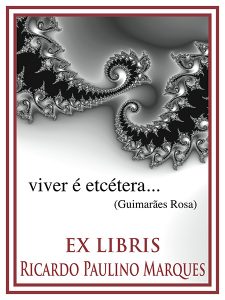 I finally was able to have exquisitely professionally produced bookplates from a design of my own, reflecting some of the personal spirit I wished to impart to my books. Many, many thanks to the people at Bookplate Ink!

Ricardo Marques, Brazil

---
I had seen these designs via Etsy.com and contacted Karen about a special order (a different size) with the Book Tree design. I fell in love with this Book Tree design and it looks just as great in person on my bookplates. I was very pleased with Karen's friendly, professional, helpful, and immediate responses to my inquiries. She walked me through all of the options and turned out a fantastic product that I cherish. Thank you so much!
Monique V., College Place, WA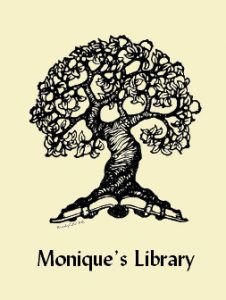 ---
---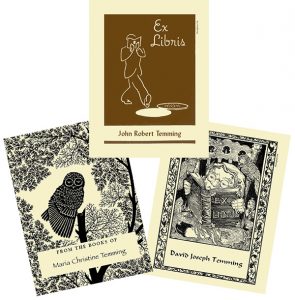 I loved the bookplates I received when I was a little girl from my aunt and uncle. So I now give bookplates as gifts. This year I splurged and bought a set for each of my adult children with their names on them. Each plate captures something each child will enjoy. They will be very special Christmas gifts. The service and quality are wonderful. I will order again.

Alice Temming, Ohio

---
Karen was able to take the image provided and create a lovely look and feel. Subsequent orders were a breeze as were bookplates for my children as well. A truly exceptional service for a hard to find product! Thanks!
Mike Knapp, Alexandria, Virginia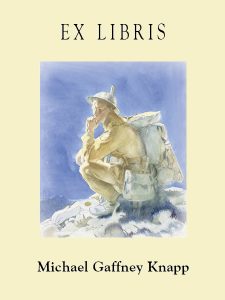 ---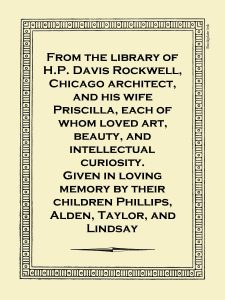 Our bookplates are beautiful, a wonderful way to memorialize and honor our parents and their library, which so beautifully represents their love of beauty, art and intellectual curiosity. Thank you, Bookplate Ink, for helping us to do this.

Alden Murphy, Connecticut

---
Bookplates may seem antiquated to most of us 21st centurions but they are purrrrfect for grandchildren who delight in seeing their names on their favorite books. I now send them packs of 20 to add to their gifts for friends. The personal touch is still popular as it always has been. I am glad Bookplatesink is still providing this happy tradition with children themed plates. Thanks lots!
LC, Barrington, RI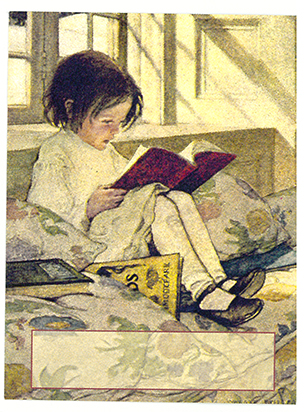 ---
I was hoping to be able to get more of a bookplate I'd purchased years ago, and, not finding it, sent a query. The resulting assistance was phenomenal, they were able to locate the old artwork, and the new bookplates are quite wonderful — including the new self-adhesive backings. All around, a great experience and true example of genuine customer service and care.
Philip Sawyer, Boston, MA
---
My rush order for bookplates was completed quickly, and I'm very happy with the quality! Thank you, Bookplate Ink!
Janine Bajus, Berkeley, CA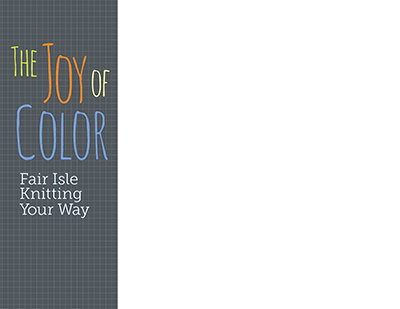 ---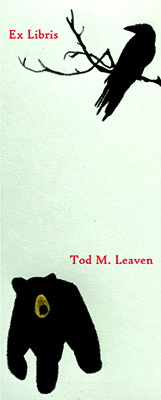 Bookplate Ink was fast and accommodated all my requests for such an odd shaped custom bookplate. I will use them again for my next bookplate design. The price is cheap and the product is perfect. Thank you!
Tod Leaven, Asheville, NC
---
Excellent product and service.
Paul Zusky, Massachusetts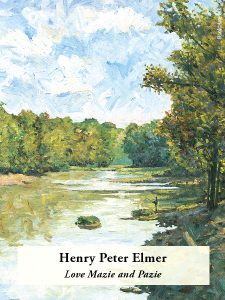 ---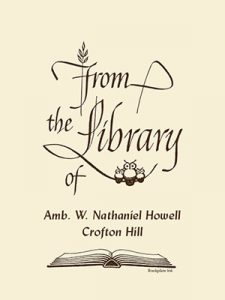 I was re-ordering for my father, who'd placed his original order 12 years ago. In order to make an exact match, Dad sent along a PDF, which I e-mailed–I was pleasantly surprised to get a prompt, helpful response. My thanks to Karen Gardner for her attention to detail: she saw to it that the order was a perfect match!
Chip Howell, Charlottesville, VA
---
My Bookplates were absolutely beautiful. I have been applying them to special books and publications I have shared with friends and families for more years than I can remember. I constantly get feedback of gratitude for making the gift special to them and they ask about the bookplate and its significance. A wonderful thing to keep people linked over the years.
James Queen, British Columbia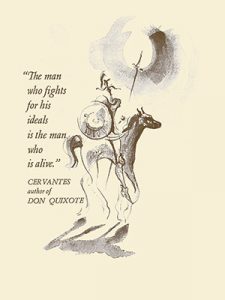 ---
Great to find the bookplates available online – classic, newer, customized. Service was quick and communication warm. What a great rediscovery and gift item!
Jane Blakelock, Yellow Springs, OH
---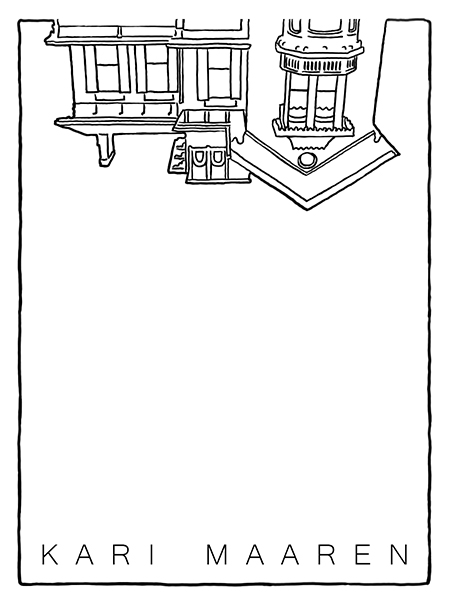 I hadn't even thought about getting bookplates until my editor mentioned the possibility about a week before the release of my first novel. I did the design myself–a simplified version of the image on my book's cover–and put in a rush order so the bookplates would be ready before Christmas. They arrived way more quickly than I expected; I paid for regular mail, but they seem to have been sent priority, and they turned up in my mailbox the day before release. They look great, and the teeny little boxes in which they come are a nice touch. I'll definitely be back.
Kari Maaren
www.karimaaren.com
---
The bookplates just arrived and they're perfect. I'm delighted with them. They take fountain pen ink beautifully, too.
Thank you so much. After years of trying to get plates like this printed in the UK, it's a great relief to know that I can buy exactly what I need from you. I'll be recommending Bookplate Ink to colleagues.
Karen Traviss, United Kingdom
NY Times best-selling author
www.karentraviss.com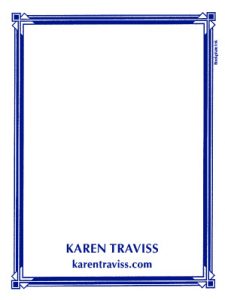 ---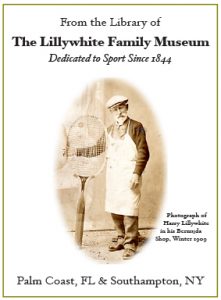 This was my second order and I made one change which Karen accepted graciously and created a special bookplate that mirrors the character of our museum's library collection. A great on-line shop to do business with and get prompt service and shipping.
John Lilywhite
---
Karen at Bookplate Ink magically transformed a painting of my sailboat into a beautiful full color customized bookplate. I was delighted to find that once the customized layout was finalized for the first order, it is fast and easy to reorder additional bookplates. Thank you, Karen, for your attention to detail and amazing bookplate products.
Bob Betts, Sandpoint, Idaho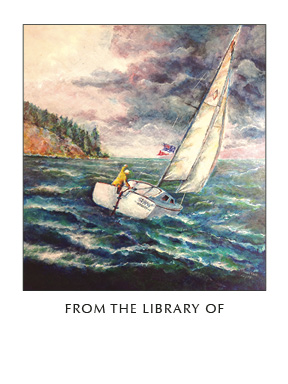 ---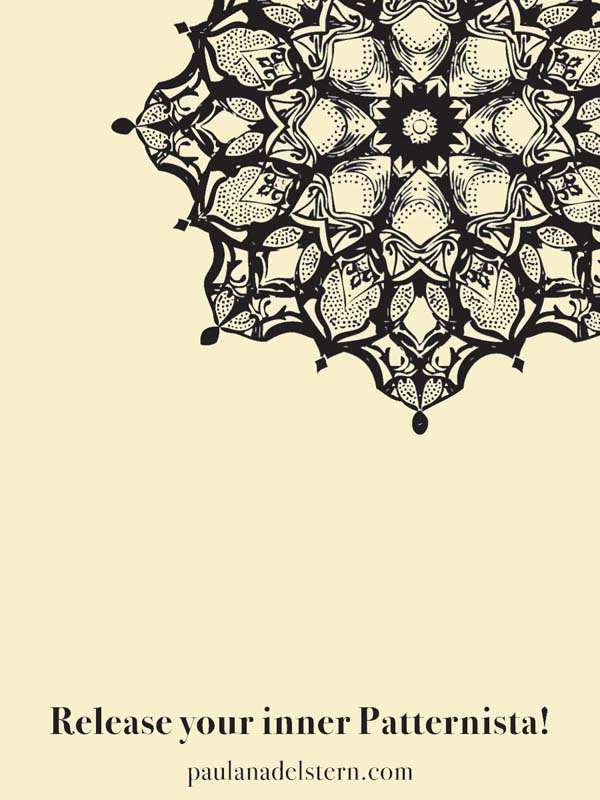 I want to thank you for the very beautiful, elegant and functional custom-designed bookplates on a quick turn around. They were perfect for my very frenzied conference. I received much credit for being very clever and professional when really the bookplate was the fix for a book with black shiny pages throughout. However, from now on, I'll always have a bookplate made for the books I write because it made it a lot faster to sign books. Thanks for the tip about adding my website.
Paula Nadelstern, The Bronx, NY
---
Awaiting my homecoming yesterday was the delivery box from Bookplate Ink.  They look fabulous!  The boxes they come in are so very sweet and attractive that I know my client will be bowled over by the bookplates themselves and their packaging. Thank you again for all your help along the way with my custom design.  Your product is exceptional.
Sincerely, Jackie Calderone
---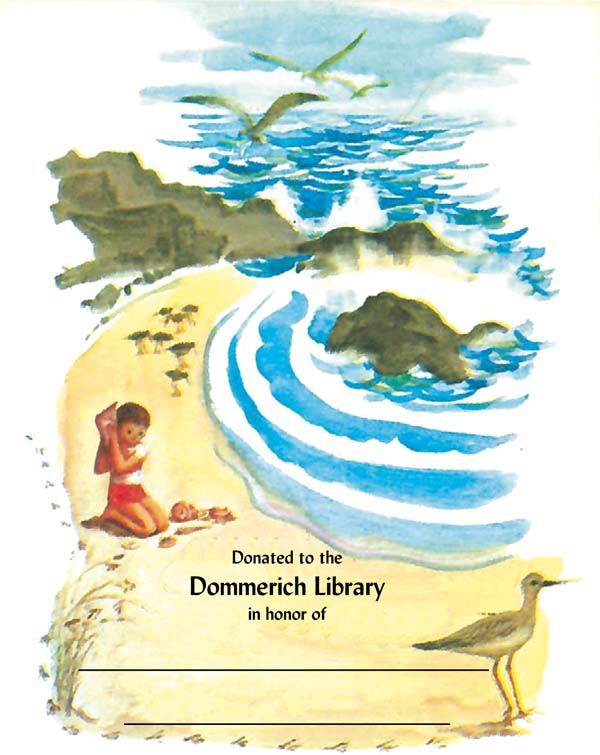 This is the third bookplate that Karen has designed specifically for our school and we have been very pleased with them, especially after shopping around at length.  We have felt very strongly about using this kind of large, special bookplate, believing that it enhanced the image of the program at our school and added to the prestige of donating to our media center.
Marcy Aydt, Media Specialist
Dommerich Elementary School
---
Book lovers are inherent lovers of quality.  To truly appreciate the feel of real paper at your fingertips, the weight of a bound tome in your hands, this requires an appreciation of the finer things in life.  Great customer service – this is the type of quality that as a book lover, I truly appreciate.  Bookplate Ink showed me this kind of quality, and I am very grateful.  Last November, my mother dropped a hint that she would love to have a certain quote on a bookplate.   Obviously this was a long, rambling quote that would not fit on any of the bookplate templates.  Karen worked with me to create a beautiful bookplate that my (hard to please) mother absolutely loved!  She sent me proofs and kept in constant contact until we created something perfect.  Bookplate Ink is a wonderful company, clearly bound (pun intended!) by the same values of quality and dependability to which I aspire in my own work.  Thank you, Bookplate Ink, for a truly unique and lasting gift!
Michelle Olson
Providence, RI
---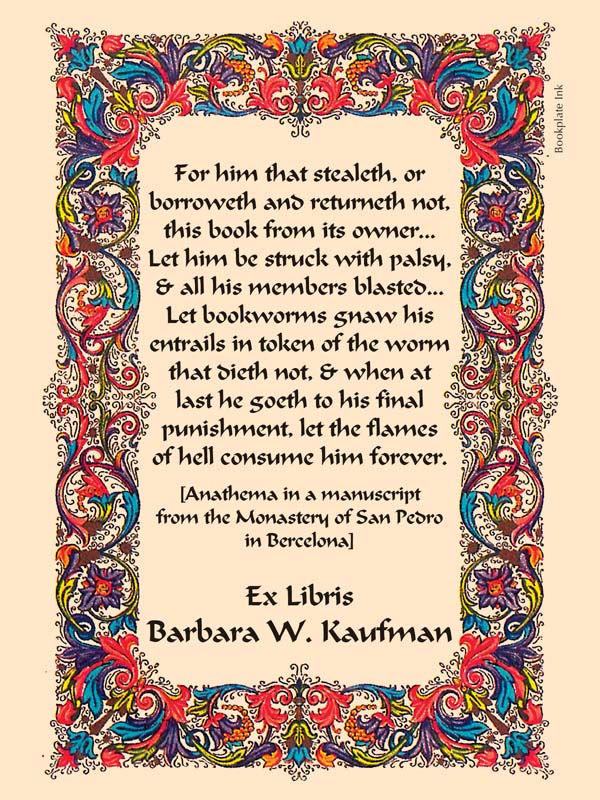 ---
I was delighted with my bookplates. The art and the fonts were so elegant that I will proudly place them in my books, particularly those that I lend to others. The phone call I received from the owner verifying a detail about my order really impressed me. I would recommend this company to anyone needing quality bookplates.
Rev. Linda Barnette
---
I just wanted to let you know how pleased we are with our recent order of bookplates. They're lovely! Thank you very much for the care taken to produce something of such good quality.
All the best from us in Scotland,
Liane, Royal Conservatoire of Scotland
---
I cannot say enough positive things about my experience with Karen. I requested a custom-made bookplate and, with fingers crossed, I asked if it could be done in just under a week. With only a poorly-lit snapshot to work from, Karen was able to duplicate the image, color, and design perfectly. Karen's response time was remarkable. She put my perfectionist heart at ease with her timely and detailed replies. After a lovely exchange, the overall result was incredible. My very discerning friend was in awe, nearly speechless, when I presented her with Karen's creation. Weeks later, friends were (and are!) still admiring the bookplates. I cannot stop singing Karen's praises; she went above and beyond to execute my vision. We will be using these bookplates forever, especially as I intend to order another batch soon. They are true treasures.
Alison, New York, N.Y.
---
After failing miserably to get a custom ex libris stamp to work, I submitted my original artwork to Bookplate Ink. The results were superb, and I couldn't be happier. No fumbling with inks or glues, no worrying about applying equal pressure — the bookplates are perfect every time. My friends and colleagues are as impressed with the quality of the images as I am. Being acid-free and archival quality, I've put bookplates on all of my antiquarian books. Karen was a pleasure to work with, and I'll certainly be ordering again as my collection grows! Thanks again, Bookplate Ink!
Brett D. Hirsch, University of Western Australia
---
I truly love your bookplates.  I read extensively and just happened to come across an article describing a little history of bookplates.  When I investigated further I found your business and was enthralled by your work.  I have a great number of books in my house and have been applying your bookplates since I started (about 100 or so ago).  I have shown my friends and, of course, when they are at my house and pick up a book, they see your bookplates.  Although I don't collect books of the "antiquity/expensive" types, I believe they add such a personal, beautiful and historical component to my books.
Edward Dever
---
This is just to let you know that my bookplates arrived this morning. They are perfect and exactly what I wanted. The custom image I provided looks excellent on the finished product. Thanks for a great job! I would certainly order from you again and will be sure to mention Bookplate Ink to all my friends and family.
Ciarán Coyle
Belfast, Ireland
---
I ordered book plates to use as a prize giveaway for my new book. I can't say enough how fantastic Bookplate Ink has been to work with. Not only did I work with a real, live person who knew a LOT about book plates, she walked me through the steps I needed to take to make this book plate work, given the complexity of the design. (How do you make a book plate match perfectly the color of the endsheets of a book the printer's never even seen?) The product itself is a lot higher-quality than I was expecting — the paper seems durable, and it comes with a peel-off backing and self-adhesive label. So much easier than the bookplates I remember from when I was a kid. Authors, I can highly recommend this company for bookplate swag.
Meagon Spooner, author
www.meaganspooner.com
---
I received my bookplates this morning and they are just perfect!  I will be proud to have these placed in the Embry-Riddle Aeronautical University library in memory of my dear husband, John. I was really grateful for your suggestions on typeset to make his name stand out.  I also appreciate that you did exactly what you said you'd do, when you said you would, which is rare today. Thank you!
Teresa DeLafosse
Bluffton, South Carolina
---
After a bit of Internet research on bookplate vendors, we decided on Bookplate Ink to fill our business need for custom bookplates.  The online shopping experience was easy, customer service by phone and email (including revisions and final proof approval) was excellent, and the finished products outstanding!  If you're seeking high quality for a reasonable cost, Bookplate Ink can't be beat!
Jan McGee, Koley Jessen PC LLO
---
My marketing department had a last-minute event, and Bookplate Ink saved the day with their prompt and polite service. Within days a beautiful bookplate on luxurious cream stock with die-cut rounded edges was delivered across country to the bookstore where our author was doing a signing. We got the credit for looking good with the fast and beautiful bookplates–and we couldn't have found a better company for the job! Thank you Karen and all at Bookplate Ink.
Kelly Kirkbride
Columbia University Press
---
Just wanted to drop a short note of appreciation for the rapid and resourceful assistance provided by Karen Gardner, in placing a difficult although small order for the necessary bookplates needed to honor a family's request to donate a number of books to the nursing/rehab facility that so helped to enhance the final days of their dear mother.
It is, indeed, a most respectable and admirable method to honor one's passing and one that will continue on through time.  I would suggest that anyone wanting to follow a similar path would be very well served to contact Bookplate Ink and allow them to offer what is a most significant and very professional method to accomplish this difficult task.  You will be very well served! Thanks once again Bookplate Ink.
Dan Haupt
---
Can't thank you enough for your patience, your effort and your time. The bookplates were perfect. The donors were thrilled, my client was thrilled and all the people who showed up to put them in the books were impressed with the quality of your product. Many many thanks.
Wendy Stern Branzburg
---
I have just received my personalised bookplates and I am extremely pleased – thank you. Your company's customer service, as demonstrated by asking for clarification, suggesting some other options, and letting me know when to expect them in Australia, was exemplary. I also believe I will get my loaned books returned more reliably. I will highly recommend your company to my other friends.
Peter
Brisbane, Australia
---
I want to thank you, for all the folks at Beulah Baptist Church, for doing such a good job on the bookplates for our Hymnal Project.  I recommend your work to anyone.
Wallace Nelms
Beulah Baptist Church
---
Thank you Karen and Bookplate Ink!  I have been so delighted with all my bookplates for each novel.  The colors and quality are so satisfying!  I can't wait to see what you will do next!
Emily Giffin, author of Love the One You're With, Something Borrowed, Something Blue, Baby Proof, and Heart of the Matter. emilygiffin.com
---
When I first started looking for bookplates I could sign for my non-local readers, I scoured the internet looking for unique or customizable designs that weren't going to cost me a fortune. I wasn't very impressed with most of what was out there–but then I found Bookplate Ink. Being the picky person I am, I wanted to design separate sets of bookplates that would custom match each of my novels' covers, and even with larger-than-normal sizes and using full color, Bookplate Ink's prices were more than reasonable. Their customer service is impeccable and they always play nice with my graphic designer, making the whole process smooth and uncomplicated. And the best part–the final products have been gorgeous! High quality paper, vibrant colors, and I don't have to spend a huge chunk of my advance just to buy them. I highly recommend Bookplate Ink.
Alison Strobel, author of The Weight of Shadows, Worlds Collide, Violette Between, That's Where God Is, and Reinventing Rachel: A Novel
---
I originally found you online, but this is my third order, and I've got more friends having babies soon!! This is my favorite baby gift — a few classic books with labels inside, and the rest in a lovely box. Just perfect.
A. Waxman, Los Angeles
---
I wish to provide a brief letter of recommendation for bookplateink.com. I am the owner of a well known private bible foundation that features some of the rarest English translations of the bible in the world. Obviously, when selecting a book plate for the purpose of provenance the key for me is to insure the paper used is acid free and the ink and printing is of fine quality. I am very impressed with this organization and am proud to have placed a bookplate in such unique treasures as the "Printers issue of the first Geneva Bible", the first English translation of the complete bible by William Tyndale and the first King James Bible "HE" version just to name a few of my treasures. I recommend this organization without reservation.
Sincerely,
Charles Payette
---
For our Holiday Party this year we gave our architecture school faculty and staff sketchbooks—a common and often used accessory. Since the books were otherwise plain, we used bookplates to create a message and indicate our school affiliation. They were a big hit. As important, the service we received from Bookplate Ink was excellent. It was focused and attentive, clearly offering the kind of personal attention that we all crave these days. Everything was done as we requested, with regular communication to be sure our specs were being met. The final product was beautiful, delivered within our deadline, and the entire experience was positive. I heartily recommend Bookplate Ink!
Steve Altman
President
NewSchool of Architecture and Design
San Diego, CA
---
Thank you, Bookplate Ink, for the beautiful and unique bookplates! I was so very happy with the quality of your product, the incredible customer service (how nice to work with such a responsive *human* these days!), and the speed of delivery. I gave your bookplates to my former teacher who was being inducted into our high school's Hall of Fame after 36 years of service — she was thrilled, and thought the pattern was absolutely beautiful! Her thank you note reads: "I just love the charming bookplates which will grace my most-loved books." Thank you for such an occasion-appropriate gift and for being such fun to work with — I'll be back!
Alyson R.
St. Paul, MN
---
I don't know that I ever thanked you properly for the BEAUTIFUL printing of our bookplates. The bookplates have all been put in, they look FABULOUS and we are VERY pleased. You do great work, and I am recommending Bookplate Ink to everyone I know who needs bookplates! Thank you VERY, VERY much.
Elaine M.,
Keddem Congregation, Palo Alto, CA
---
We received the bookplates for the hymnals that we donated in memory of our son, Thomas, right on schedule. They are gorgeous…beautifully done, crisp, clean and visually elegant. They look perfect in the hymnals that will be used in the new chapel at his school. The chapel is stunning, with carved wooden pews, stained glass that is meticulously done, tile and dark cherry wood panelling. It has a masculine, quiet but commanding look. So the bookplates had to be "just right" with a strong but subtle look, as they will be seen by the whole school every day at mass. They will also be seen by parents, visiting lecturers and guests, dignitaries, famous authors, ambassadors…and most importantly, boys and young men who were like brothers to our son. He had a lot of friends who loved him dearly and miss him terribly as they were all just about to graduate together when he was killed.
So – these bookplates are kind of a big deal and they are perfect. We wanted them to be beautiful, strong and subtle so they would not overwhelm or overpower, but be a quiet reminder of our beautiful boy. So, now when the students, alumni, teachers, etc. attend mass in the chapel, they will think of our son while they are praying, singing or just sitting.
Thank you so much, from the bottom of our hearts.
Art and Susan Carroll
---
Thank you for the beautiful bookplates; they were the perfect gift for our young friends next door, who are eager new readers. Bookplate Ink offers a wonderful selection–I even found the beloved bookplate design my parents had given me as a child! I especially appreciated your prompt response to all my queries, and I admire the way you handled all our transactions in a way that was both professional and personal. Your commitment to providing a quality product and excellent customer service is obvious—it's a pleasure to do business with someone who willingly puts extra time and consideration into each purchase. I'm so glad I read that article in the "Wall Street Journal" singing your praises. They are well-deserved. Can't wait to recommend you to my friends and family!
D.C., Boulder, CO
---
I just received the bookplates today and couldn't wait to open them! THEY ARE GORGEOUS!!!! I am so excited….with our school mascot being a mustang the design is perfect and will be a fabulous prize as part of our event this year. I cannot wait to bring these to school tomorrow to show everyone! This summer I know I will be ordering ones for my own personal library. The artwork is beautiful, and I was so happy that they were individually boxed rather than on a roll!!! You've got a big fan here in Colorado- and I know lots of book lovers to pass along to you! Thanks again.
Alison Adams
---
Our Upper Arlington Public Library needed bookplates to honor the donors of a special collection. I found Bookplateink.com on the Internet. We are very pleased with our new bookplates featuring the Whitmore tree and the name of our donors, Dr. and Mrs. Martin P. Sayers. The chocolate ink image on the ecru bookplate looks crisp and clean. Our new Sayers Collection bookplates made by Bookplateink.com are a big hit with patrons and staff.
Thank you,
Norma Wheller
Upper Arlington Public Library
Columbus, Ohio
---
The Milne Library in Williamstown would like to thank you again for the lovely bookplates. We appreciate your working hard through the holiday season and want you to know the plates arrived and were in the books before the launch of our book challenge. Thanks again from all of us. You're great!
Mindy from the David and Joyce Milne Public Library, Williamstown, Mass
---
Just received the bookplates and I'm delighted — exactly as I expected, when I expected them, and I love the color. You do good work!
J.P., Naples, FL
---
Bookplate Ink provided us with an excellent product, delivered right on time, and at a very affordable price. Our bookplates were a custom design to suit our particular needs – thirty-one New York Times Bestselling Authors signed each one for a promotional give-away to the top 100 independent mystery booksellers. We highly recommend Bookplate Ink and will definitely use them again.
M. Diane Vogt
National Events Committee Chair, International Thriller Writers, Inc.
---
 We received our bookplates and they look gorgeous! I appreciate the personal service we received from Bookplate Ink and the convenience of choosing and customizing the bookplate via the Bookplate Ink website.
Seattle Art Museum Libraries
---
Our full color bookplates for the Rotary book project are beautiful! They are nicely centered and will identify the books donated through our literacy project. Thanks for your excellent service!
Bill Jelen
Rotary Club of Lake Township, Ohio