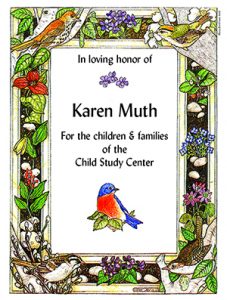 More than a year and a half ago — which now seems in the distant past — we had an order requested for bookplates for a wonderful and loving project: a book area for children at the Child Study of Center of Yale School of Medicine, in honor of the beloved Director of Finance and Administration there, Karen Muth, who was losing her long battle with cancer. Karen was able to help choose the design she wanted before she passed. As her friend Jean Herzog, who placed the order, wrote, "books will be chosen by the faculty and staff for children and families who are dealing with childhood cancer. Karen dealt with her own cancer for more than eight years and was very touched that her friends and family chose to remember her this way."
Jean wrote to me recently to let me know that Karen's Korner was finally opened, on May 6, 2022, after some delays due to the pandemic. This wonderful book haven includes rocking chairs and a bookshelf with a variety of children's books, each with a bookplate dedicated to Karen Muth. You can read more about it at their website.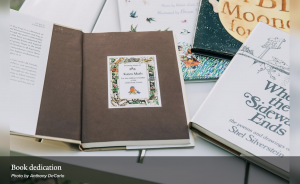 I was touched that Jean shared this with me. These are the bookplate orders that give so much meaning to what we do. Bookplates in memory of a loved one are treasured tributes.